In April 2007, members of Watonala Lodge attended the SR-1 Conclave hosted by Aracoma Lodge at Camp Horne. The pictures below were taken at the event.
The following is a breakdown of one of Camp Horne's six permanent campsites. Each of Camp Horne's campsites follow the same basic set-up.
Here, we are coming upon
Hopi
Campsite. This particular campsite is lakeside of the Lower Lake, which makes for a very scenic stay. You should also begin to note the terrain of Camp Horne, which is very "hilly" and steep.
The campsites are broken down into two or more subcamps. Each subcamp has a permanent pavillion, as pictured below, and fire pits.
The tents in each subcamp are arranged in groups of four, consistent with the patrol method. Most have an exposed picnic table.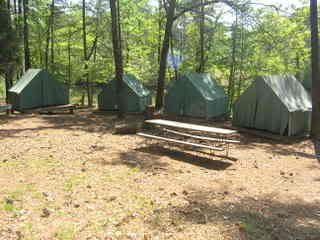 Each campsite has a common latrine, servicing both subcamps.
Camp Horne's central hot shower facilities are housed behind the swimming pool. However, the right-side of each latrine houses more-than-adequate cold shower facilities. The photographer apologizes for the awkward angles of this picture. Well, for that matter, almost all of the pictures.
The left side of the latrine houses the toilet facilities.
Now here is something you don't see at every camp...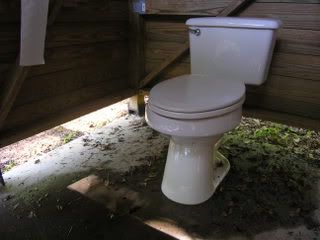 Flushable toilets.
Yes, it is a little suspect to take pictures of toilets, but these came as a welcomed surprise to many at the Conclave.
Since the photographer did not think Comanche Lodge would appreciate someone snooping around in their tents with a camera, pictures of Watonala's vacated tents were taken. Watonala stayed in
Cherokee
Campsite. Again, take note of the groups of four and the contour of the land.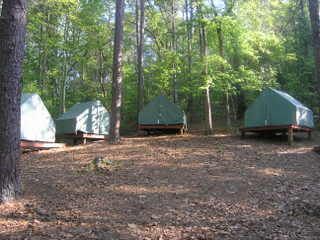 Camp Horne's wall tents are placed on permanent platforms. The platforms extend out from the footprint of the tents, providing a small porch. These tents are larger than those at our beloved Camp Seminole, almost 10' square.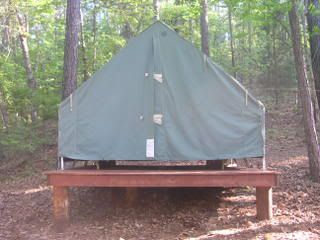 These tents are very spacious, with tons of headroom. Take note of the frames that support the tents. The frames are made of a lightweight pipe and are affixed to the platforms.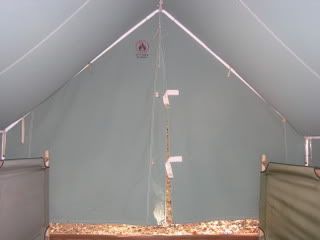 Camp Horne made for a very enjoyable stay. This
post
provides a tour around the Upper Lake of Camp Horne. As always, consider
Camp Seminole
as your first choice for a camping trip. For a change in scenery, Camp Horne offers a great alternative.

Pictures Courtesy of Artis Ford, Troop 27 Scoutmaster and Sam Graves, Watonala Lodge Associate Adviser